Greetings, I know it's been a while since I've posted any sort of update with regards to this upcoming fiction novel series. 2021 was a brutal year, and I don't wanna make any further excuses.
Here's an update on how things have been going on lately:
I must admit that after completing Sword's fourth draft almost a year ago I decided to put it away and went in full head on trying to materialize another project of mine which would've allowed me to apply and obtain a pair of US visas for my brother and myself — unfortunately, and despite all my efforts and prayers, it simply did not go through, so all those months of trying and waiting were for naught.
After I managed to sorta get back on my feet after such a monumental personal defeat I decided that I should not wait any longer with Sword. I always envisioned that I'd get out of Venezuela first and then publish Sword, since that's been something I've not been successful at I decided to just go through all the added obstacles and publish it from here one way or the other.
I'm proud to announce that Sword is currently undergoing it's editing phase. Furthermore, I have most of the bureaucratic paperwork solved for its publication including the 22 year old tax treaties between the US and Venezuela that I can use for all of this.
I don't know how long the editing will take, since I want it to be the best it can be. One thing is certain, this book is finally getting published this year no matter what happens in my life and with my visa situation. It is one of my dreams, and I will keep giving it my all.
There's still some other details I'd have to nail down and arrange, but with my waning strengths I can only do one step at a time these days. One thing though, once the editing is almost done I will take down the 2nd Public Preview, as it would no longer be an accurate indicator of the novel's quality (in a grammar and readability sense).
Don't worry, the plot won't change at all, the final title might, though, still undecided on that.
With Sword undergoing its editing, it was finally time for me to begin working on the second chapter, Sins. I started working on it on the day of my birthday, January 09, as a gift to myself.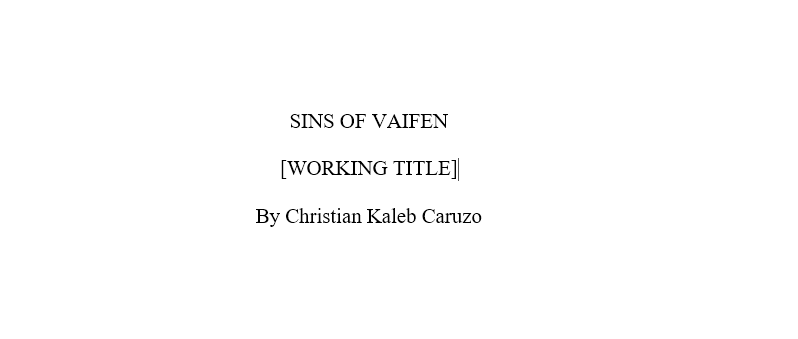 It's been quite some years now since I began writing this series. Sword was something I started working on amidst my mother's cancer treatments and the brutal collapse of Venezuela during those years — basically, it was both a form of escapism for me, and a pursuit of a long dream. I always wanted to show the finished book to my mother, but alas, fate had other plans in store.
Sins is something I'll be working under a different backdrop and scenario: me trying to unshackle myself from all that happened and hopefully, finally stepping out of Venezuela towards a new life with my brother, be it through visas, Italian passports, or what have you.
This second entry in the saga has some key moments that I've been aching to write, a couple of them in particular are ones that I envisioned all the way back when I was a teenager. I can't wait to finally give form to these key moments in Bastiel Isthal's history.
Stay tuned for more info about Sword's inexorable publication, and for more updates on Sins and lore previews. I can't wait for the first chapter of this dream of mine to finally be out there and for this fiction world and its characters to live in the imaginarium of the readers. Whatever happens with my life from now on, this series is something I'll keep working on, and I have a lifelong roadmap for it.
Until the next one,
-Kal