This is something I was not expecting, but was a very much welcomed episode of my ongoing journey towards finding closure on all the past years of my life.
A couple weeks ago I got a call from a Doctor that used to work with my mom, he's one of the last doctors that she trained in Pain Management and Palliative Care before cancer forced her to step down. I hadn't talked to him in years, so his call was quite surprising.
He's now heading the Pain and Palliative Care unit that my mom was the head of until 2016 (three years after her scheduled retirement because the hospital kept refusing her retirement), he reached out to me to tell me that the unit, along another Pain Management organization (that she helped found in the 90s) and the country's Anesthesiology Federation (which she was the president of the pain, palliative care, and ultrasound division) were organizing a Pain and Palliative Care Medical conference — the first of its kind since the COVID pandemic stopped everything to a grinding halt.
The whole conference was to be held in honor of my mom. Several doctors that had worked with my mom would also be participating, which is why he was inviting both me and my brother to attend as guests. He asked me for some pictures and information to prepare a homage for, he told me that he used to have some pictures of my mom alongside him and the whole team but unfortunately, his laptop had been stolen, so he lost everything.
Obviously, I agreed from the get-go, and thanked him right away for it. I got a bit emotional afterwards, I must confess.
Over the next few days I went in through the file backups I made of her now obsolete laptops and all the files I managed to retrieve from her now dead smartphones, as well as some of the piles of pictures I've been slowly scanning for preservation I was able to put together a decent assorted batch despite the gaps in years. I also found the last version of her 18-page Curriculum Vitae, dated 2017, to get the snippets of work-info required.
Fast forward to November 05th, and there we were, first thing in the morning. The event took place in the headquarters of a pharmaceutical company that I had no idea it even existed in the first place. I will say this right away, that is the fanciest place a loser like me has ever been invited to in my entire life.
The doctor arrived shortly afterwards, we had a lengthy catch up convo between life, personal stuff, and how we've been after these past four and a half years. Eventually, the topic of the Pain and Palliative Care Unit that my mom ran from 2000 to 2016 came up. Long story short, and largely in part due to the collapse of Venezuela and the stuff that happened during those years, by 2017 everything that my mom had worked so hard for was basically gone, and the unit was almost shut down.
He told me that yes, the unit was in a very dire spot, the person that replaced my mom hadn't done a good job at running things, the country's collapse didn't helped either, and the COVID pandemic had done even more damage — but now he's in charge of it, and he's been slowly but surely rebuilding everything little by little. "Now I know all of the work your mom had to do," he told me, describing all aspects of the things my mom had to take care of, such as attending patients, the administrative part of the unit, teaching residents, and other responsibilities, which are all now under his mantle — mind you, doctors are barely paid here, one of the main reasons many have chosen to leave the country, my mom was in the process of doing that too, but unfortunately, fate had other things in store.
There are people still trying to fight the good fight and make the country a better place, even if there's no political solution to any of this anymore and our further plunge into chaos has simply been temporarily forestalled.
I was also told that a plan she had proposed before getting diagnosed with cancer was finally being approved in 2023, albeit in a modified way: Her plan called for the hospital to authorize the use of the physical space of a shutdown Trauma unit to relocate and expand the Pain and Palliative Care unit, which has been occupying a rather small place in the hospital's seventh floor all these years. The initial plan still has my mom's signature and his, he told me.
Unfortunately, the hospital got rid of all of the archived files, paperwork, and records, all of that is gone allegedly because of a burst water pipe that caused partial damage to the pain and palliative care unit archives.
That gave me a bit of hope, and much needed optimism, because it means that my mom's work and legacy is not gone — what better proof that a whole event is being held in her honor? I do have whatever files she had on her computers backed up on my old computer's hard drives, so there is a chance that there's stuff there that may help rebuild things up. 
Perhaps because I don't really have anyone else to talk to, I went and recalled some of the events and things I've been doing and working on these years, including my novel project and other things I've done, including all my attempts at getting my brother out of the country and the whole Italian Passport saga, as well as a bit of 'trauma dump,' if you will.
Eventually people started to arrive, including a handful of familiar faces, such as a doctor that went to med school with my mom and an older doctor that gave us some stuff and food when we had to unexpectedly move to a new apartment in 2000, including an old television that we used to play video games with.
My brother and I even got to meet the new generation of pain and palliative care residents currently being trained in the unit, young men and women being trained in the place my mom loved so much and devoted sixteen years of her medical career to.. 
The event started about an hour late, but it was very jam packed, with over a hundred more watching via Zoom and YouTube. My mom loved to participate in conferences, she was very passionate about them, and was very good with the quality and presentation. 
Zoom, and the whole Online Presence e-conference thing that was boosted by the COVID pandemic weren't a thing back on her days (nor did most places had an adequate internet infrastructure to be able to do it anyways), so she traveled a lot through the region to participate in these events during the 2000s and the first half of the 2010s, including the United States, Mexico, Colombia, Chile, and many more countries in Latin America.
Now, one such conference was being held in her honor.
The doctor asked us to stay at least until the noon break, as my mom's homage and most of her former colleagues would be having their respective conferences during the two morning blocks, it's not like we had better plans or somewhere else to be, so yeah, we stayed.
The event began with some introductory words before going right away with my mom's homage. The doctor went through her career, a bit of her personal life, some of her published works, and some anecdotes of having worked with her as the pictures I had provided him with accompanied some of the words in the slides. I tried my best to contain the tears, but eventually, when we were both called to stage to receive a plaque and a very beautiful flower arrangement honoring her, I cried as the cacophony of applause rolled in.
Of the ten doctors that were part of the morning conferences, eight had worked with my mom, and all of them made mention of it during their respective speeches, some even said things and lessons that my mom gave them over specific pain management and anesthesia related subjects. Their names I remember my mom having mentioned at least once. About half of them did their conferences from abroad via Zoom — don't forget that Venezuela's still ongoing migrant crisis has pushed more than 7 million Venezuelans out of the country.
My mom's homage was followed by a rather interesting look at the history of pain, going from The Book of Genesis and all the way up to the first cases of anesthesia in Venezuela, that was the one conference I could follow through from start to finish, as the ones that followed were either of a technical nature or were aimed towards doctors, which I am not (although  I do have some knowledge via osmosis thanks to my mom, so a few terms here and there where things I knew about).
They had a coffee break before starting the second block of five. I had to excuse myself in between speeches to use the toilet — and let me tell you, that was the fanciest toilet I've ever peed in, lmao.
But still VIP guests aside, and even though there were a handful of familiar faces, we were both strangers out of place, probably the only two non-doctors in a conference room full of doctors other than maybe the lab's staff.
After the 2nd round of morning conferences was over, they continued with a Q&A session, and then a brief lunch snack. We each took a snack package and were guided towards a large open room with tables that still featured plexiglass panels to separate one side of the table from the other.
All of the doctors conversed with each other, while my brother and I silently ate our snack packages, that's when it really clicked with me: This was my mom's world, not ours. Had I not been such a massive disappointment as a teenager and had I truly been the son my mom deserved to have then yeah, maybe, this would've been my world too. We're both still trying to find our own little place in the grand scheme of things that is life. 
My brother, who woke up very early for all of this, was getting sleepy, so it was best if I took him home.
After the snack break (and after my brother went to the fancy toilet) we bid our goodbyes to the doctor. He called in the residents that are now under his mentorship and we shook hands with them one last time.
I called in a taxi and we went back home, ordered a pizza for my brother, and we hung the plaque on a wall. I let my brother choose which wall. I put the flowers next to the portrait of my mom that we have alongside my grandmother's and other members of my family, lit a candle, prayed, and wound down for the day.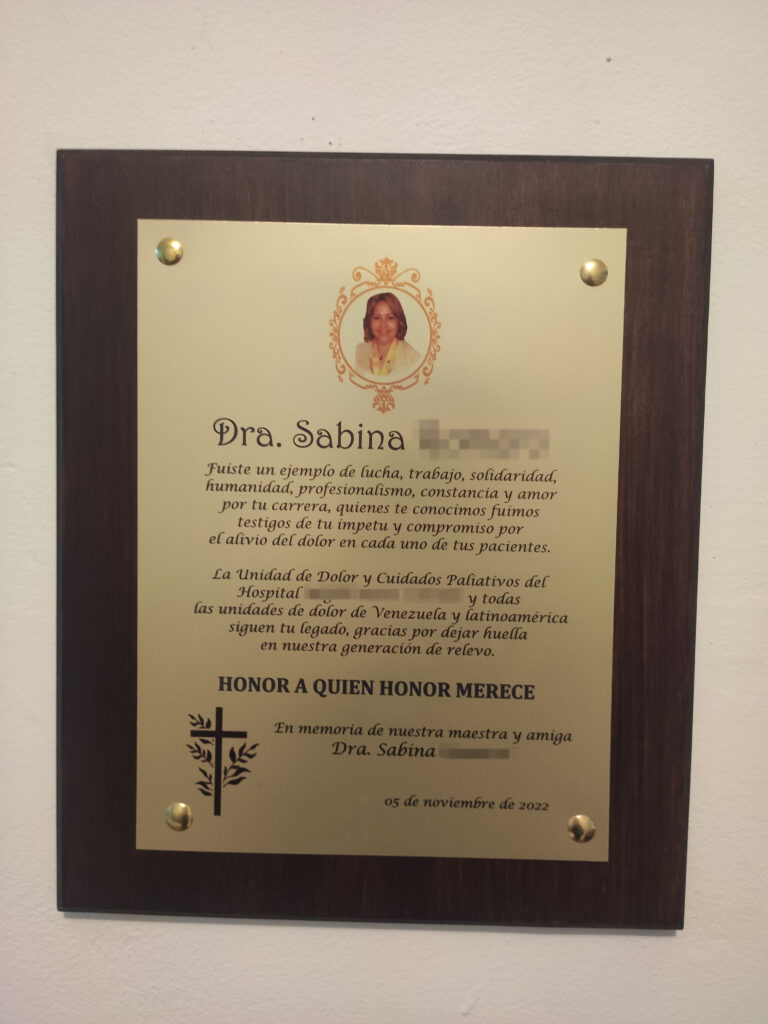 I don't know how my brother felt because he's not a very talkative person, but this was a very bittersweet experience. I took a quick nap and woke up feeling rather depressed. I may have relapsed again in terms of depression because it's been 24 hours and I still feel just as bad. Honestly, the only reason I woke up on Sunday is because I had to cook for my brother, and I had to clutch myself with the evening water ration duties to force myself to sit down and vent here with these words.
Maybe it's because I have so much on my head right now, the uncertainty of the future, the whole Italian citizenship gamble, my rather bad health, my own demons to contend with, the fact that my mom deserved better, that I failed to save her or so far having failed to live up to her footsteps — I'm neighbor as strong nor as smart as her, that's a given. I know her family always looked down on her because she 'never made money' as a doctor, but she's left a legacy that I hope will live on through the doctors she trained, and the people whose lives she helped save.
I don't care how or how much it costs me, I am taking the plaque with us when we finally get to leave this country, even if I have to do it via maritime shipping and send it to someone while we settle in. One day, if God blesses both my brother and I with children of our own, I want them to treasure that plaque, so that they continue her legacy.
Whether I succeed or fail again over the next months,  I sincerely hope that the Pain and Palliative Care unit is successfully rebuilt from the ground up, and that it gets to be expanded like my mom had initially wished for. My best wishes go to that doctor in this very hard endeavor. I'm very grateful to him for having organized all of that to honor my mom.
-Kal